The team at La Jolla Family Smile Design firmly believes that all dentistry should be cosmetic dentistry. All dental procedures should strive to augment each patient's oral health while maximizing the beauty of the smile. If you live in or around San Diego, Dr. Jaime Breziner and Dr. David Vasquez and our implant dentist, Garry Bloch, can recommend custom cosmetic dentistry procedures to enhance the look and feel of your entire mouth.
Our cosmetic dentistry treatments use state-of-the-art technology and the best materials to make your smile shine. Please call us at (858) 454-3044 today to schedule your initial consultation. We serve patients throughout the San Diego and La Jolla area.
Available Cosmetic Dentistry Treatments
If you're looking for a way to remove stains, conceal cracks, and even alter the entire appearance of your teeth, we have options to address multiple cosmetic dentistry problems. We provide treatments such as:
Our dentists also strengthen and stabilize teeth that are chipped, cracked, or broken using custom restorations. While some patients might fear the unattractive appearance of metal in their mouth, we keep metal to an absolute minimum, instead preferring ceramic materials to create:
If you've replaced lost teeth with dental implants, Dr. Bloch can enhance your smile with a restoration that matches the natural color of your teeth. Once the artificial tooth root is settled beneath the gum line, he can complete the restoration with a ceramic crown.
Benefits of Cosmetic Dentistry
Most people believe that a healthy, attractive smile is an investment worth making. We are proud to be leading San Diego cosmetic dentists that patients choose to help them attain advantages like:
A natural smile that looks and feels good
Improved self-esteem and confidence in their appearance
Greater comfort interacting with others
Not feeling compelled to cover their mouth when smiling or laughing
People who want to make improvements to their smile expect the best. To meet these high expectations, our dentists always strive to create the perfect aesthetic for our cosmetic dentistry patients. To find out how you can achieve an appearance you can be proud of, contact La Jolla Family Smile Design and schedule your cosmetic consultation. We serve patients in and around San Diego.
Cosmetic Treatments FAQs
How much does cosmetic dentistry cost?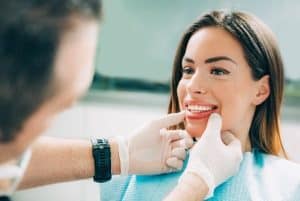 The price for cosmetic dentistry varies depending on the treatments utilized in your care plan. During your consultation, the team at La Jolla Family Dentistry can discuss specific costs so that you know what to expect upfront. While strictly cosmetic procedures are not covered by most insurance plans, some treatments that overlap with restorative dentistry (crowns, Invisalign) may be covered in part by insurance. La Jolla Family Dentistry accepts financing through CareCredit if it would be helpful for you to pay for your cosmetic dentistry procedures in installments.
Will the dentist need to pull my teeth for cosmetic dentistry?
Very rarely is tooth extraction necessary to perform a cosmetic procedure. Our dentists always favor keeping your natural, healthy teeth in your mouth. Fortunately, they have tools and techniques that can make your natural teeth brighter, straighter or longer without having to remove and replace them.
How long does cosmetic dentistry last?
The duration of the results depends on the specific procedures. For example, teeth whitening lasts about one year, dental bonding lasts a few years, dental crowns last several years, porcelain veneers last 10-20 years and a gum lift can last indefinitely. Your dentist can discuss the expectations prior to the treatment and also advise you on how to maintain the results for as long as possible.
What are the pros and cons of porcelain veneers?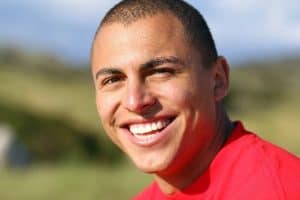 Porcelain veneers are one of the most popular cosmetic options because of how durable and customizable they are. Patients like veneers because they can get teeth that match all their specifications, including shade, width, length and shape. They also like that they can use individual veneers to improve a single problem tooth. The disadvantages are that they are more expensive than other cosmetic treatments and they permanently alter your natural teeth.
Why should I choose La Jolla Family Dentistry for my cosmetic needs?
Our dental professionals are knowledgeable in general, restorative and cosmetic dentistry, which means that our patients can count on having teeth that are healthy, functional and attractive. Our team includes Dr. Jaime Breziner who specializes in cosmetic and aesthetic dentistry, earning rave reviews for his expertise in teeth whitening, Invisalign and porcelain veneers.