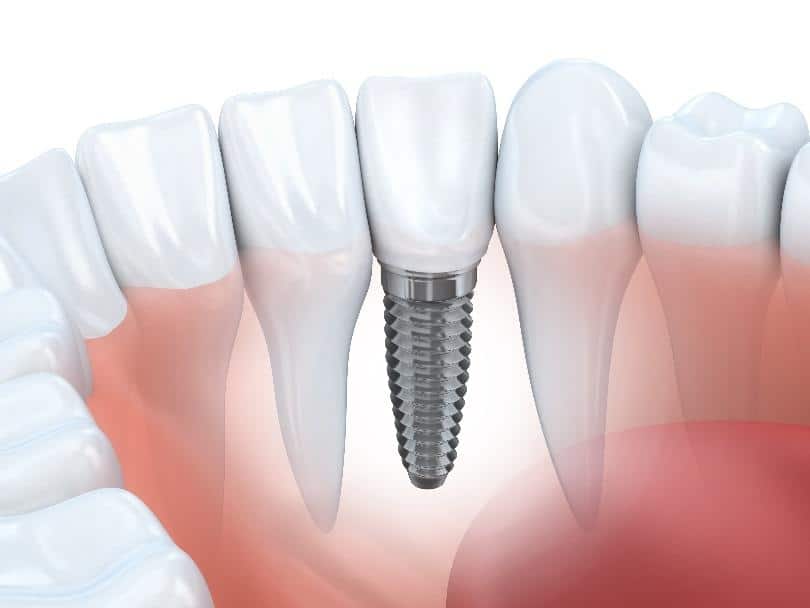 Are you looking for a permanent solution to missing teeth? Whether you have a single gap in your smile or you're tired of wearing dentures, dental implants are often an ideal solution for La Jolla patients who want functional, aesthetically pleasing tooth replacement.
To learn more about dental implants, please call the office of La Jolla Family Smile Design at (858) 454-3044 today. Dr. Jaime Breziner, Dr. David Vasquez and our implant dentist, Garry Bloch, welcome patients throughout the San Diego area to our office in La Jolla.
What Are Dental Implants?
Dental implants are the only permanent way to restore your smile after losing a tooth. Treatment consists of surgically inserting small titanium posts beneath the gum line. Once the jaw has healed and the implant is fully integrated into surrounding bone, we can fit you for a custom dental crown to complete the restoration.
Implant Benefits
Benefits of dental implants include:
The root bonds with bone at the chemical level — no dental restoration is more structurally stable
Completed implant fits comfortably in the mouth and functions just like natural teeth
You can speak and eat without worrying about the slipping that can occur with dentures
We can fabricate a restoration that looks and feels just like a natural tooth to restore your smile
Are Dental Implants Right for Me?
During a preliminary consultation, we will discuss your medical history and perform a full exam of your mouth. Key requirements for implant candidacy include:
Freedom from gum disease and other chronic oral health issues
Not suffering from systemic conditions that could complicate healing after the implant surgery, such as diabetes or autoimmune disorder
Sufficient bone mass in the jaw to support implants
For the most part, patients who are able to undergo surgery are healthy enough to get dental implants. You must also be willing and able to keep your teeth and gums healthy to provide the implants proper support throughout the restoration's lifetime.
Dental Implant Procedure Details
If you qualify for dental implants, treatment proceeds as follows:
Pre-surgical imaging techniques such as three-dimensional X-rays and computer-aided design/computer-aided manufacturing (CAD/CAM) are used to help the dentist in placing the implant posts precisely
Our implant dentist, Dr. Bloch, will place the artificial roots beneath the gum line
The gums will heal and the implant will bond with the jawbone — this takes approximately six months
When the implant is fully integrated with the jaw, we will discuss the options for a custom restoration
Implant Dentistry with Bridges or Crowns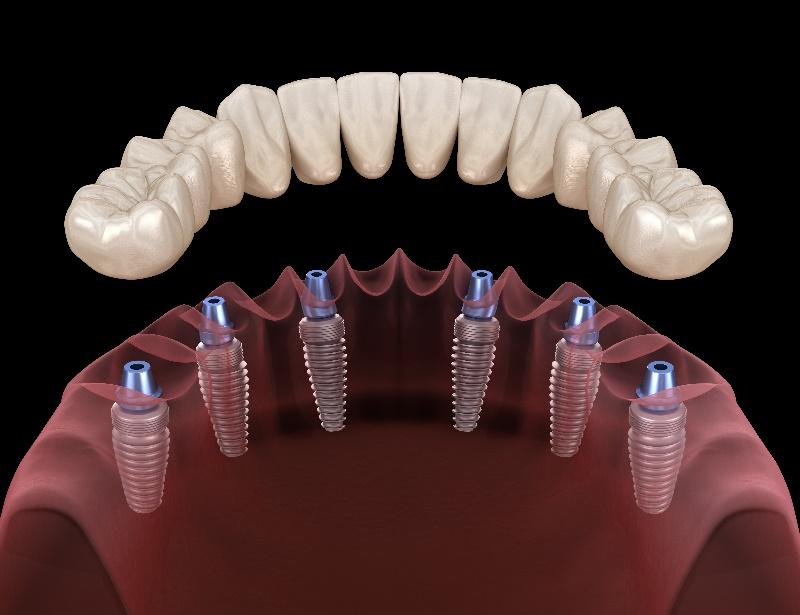 The implant itself is simply the part of the restoration placed within the gums. For the apparatus to be complete, you'll need a crown, dental bridge or other restoration to replace the actual missing tooth.
Dr. Bloch has over 30 years' experience placing implants and crafting custom restorations using the finest materials and most advanced methods available. When you visit our La Jolla office, we will take an impression of your missing tooth to create a crown made from high-quality dental ceramic.
Ceramic crowns and bridges have a number of benefits enhanced by dental implants, including:
Ceramic looks like tooth enamel and can be matched to the shade of your natural teeth
The material is strong and complements the implant to provide lifelike tooth replacement
Dr. Bloch will carefully position the restoration so the angle is comfortable and functional
Crowns and bridges don't last as long as dental implants, but we can provide a quality replacement so your smile can look as good as it feels.
Dental Implant FAQs
Will I be without teeth at all during the dental implant process?
No, you do not need to go "toothless" at any point during the implant placement or healing process. Temporary teeth can be placed over the healing implants.
How long does it take to get an implant?
The entire dental implant placement process usually takes about five to eight months and requires several different procedures.
What are the benefits of implant dentistry?
Dental implants can improve quality of life by offering the following benefits:
Normal look, feel and function of a healthy tooth
Fixed into place and won't loosen or fall out when speaking, laughing or eating
Help maintain the natural shape of the face
Protect the integrity of the jawbone
Are dental implants painful?
Local anesthesia is used during the placement procedure to numb the treatment area and prevent any pain. Most patients have little post-operative discomfort (if any).
How long do dental implants last?
With the proper care and attention, dental implants can last indefinitely.
Do dental implants require special care?
Implants should be brushed and flossed daily, just like natural teeth.
Will I have to come back to the office for maintenance?
Dental implants should be checked regularly by a dentist. However, they do not require special maintenance visits outside of what is expected with natural, healthy teeth.
Are there any side effects to receiving dental implants?
As long as you are healthy and work with a reputable implant dentist, you do not need to worry about dental implant side effects (other than some mild soreness after the placement procedure).
Who places dental implants?
Dr. Bloch places the implant posts in the jawbone, and plans, crafts and places the tooth replacements that cover the posts.
Are implants expensive or covered by insurance?
Dental implants are a worthwhile investment in your oral health. They are typically not covered by insurance, but there are dental financing companies that can help break the cost into monthly payments. Some patients use an HSA (Health Savings Account) to pay for implants.
Why Choose Dental Implants Over Other Procedures?
Many of our patients prefer dental implants to other tooth replacements because they are:
Reliable: Implants are surgically placed in the jawbone, and won't shift around in the mouth when eating, speaking or laughing.
A standalone solution: Implants don't rely on support from the teeth adjacent to the gap. Surrounding teeth do not need to be modified in any way to accommodate dental implants.
Great for jawbone health: Because the implant posts fuse with the jawbone, they keep the bone healthy. Chewing on a dental implant stimulates the bone the same way a healthy tooth would; this prevents the bone from weakening and deteriorating due to lack of use.
Dental Implant Procedure Timeline
The entire implant placement process usually takes several months to complete.
In some cases, a failing tooth needs to be extracted, or bone grafting is needed to strengthen soft or thin jawbone. These steps may be performed prior to, or at the same time as the implant placement.
Implant placement usually takes one to two hours. Dr. Bloch first creates an opening in the jawbone for the implant post. A temporary tooth may be placed over the implant post so the patient does not need to go without a tooth.
The implant post heals for three to six months. Once it has integrated with the jawbone, the implant post is uncovered and an abutment connector piece is attached to the top of the post. Then, the artificial tooth is screwed or cemented to the abutment. Most of the time, the artificial tooth is a crown, but implants can also support bridges and dentures.
Contact Us Today
If you're missing one or more teeth and you're looking for a functional, cosmetically pleasing alternative to dentures, you might be a candidate for dental implants. Please contact La Jolla Family Smile Design today to schedule an appointment to learn more. We serve patients in La Jolla and other San Diego communities.