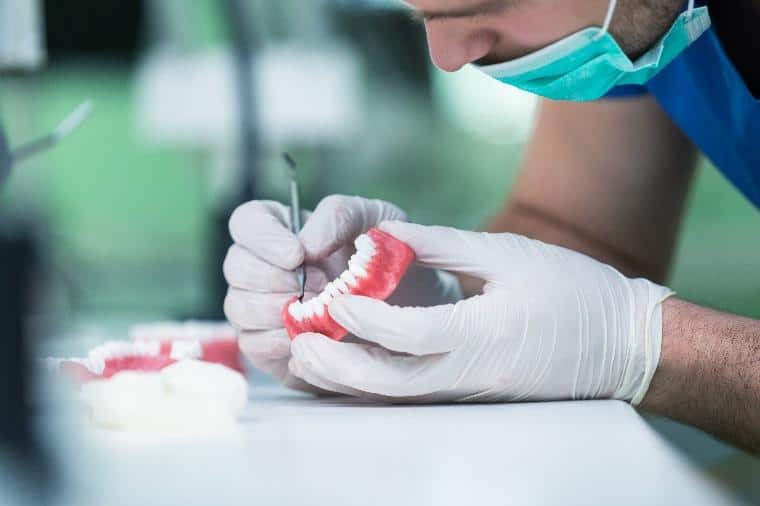 Thanks to today's denture materials and the techniques used to construct the appliances, it is virtually impossible to tell that someone has dentures. If you are missing multiple natural teeth — or all of your teeth — dentures offer a second chance to eat, speak, smile and laugh with the same confidence you enjoyed before tooth loss.
At La Jolla Family Smile Design, we make the process of getting dentures smooth and stress-free. We will design a custom set of dentures that complements your facial appearance and help you adapt to life with your dentures.
Types of Dentures
Complete dentures replace all of the teeth in the upper or lower jaw. The artificial teeth are held in place by a plastic acrylic base that covers the upper or lower gums. Partial dentures replace clusters of teeth in between existing natural teeth or restorations. Both kinds of dentures can be completely customized to your needs and should make it easy for you to speak and eat normally.
Implant-Supported Dentures
Implants can be removable or secured to dental implant posts. Removable dentures should be taken out at night to soak; implant-supported dentures are only removable by a dentist. Implant-supported dentures offer a greater amount of stability than removable dentures; the implant posts holding the dentures in place also keep the underlying jawbone stimulated so it does not shrink.
Denture Placement Timeline
The first step is an evaluation of your oral health and a consultation with one of our dentists to determine whether dentures meet your specific needs. We will examine your entire mouth to assess your current oral health and look for any signs of infection or other problems that need to be addressed prior to placing your dentures. Depending on your needs, we may have to extract one or more remaining teeth before fitting you for dentures. We will also take measurements and impressions of your mouth and select the color, shape and size of your replacement teeth. All of this information is sent to the dental laboratory that creates your custom dentures.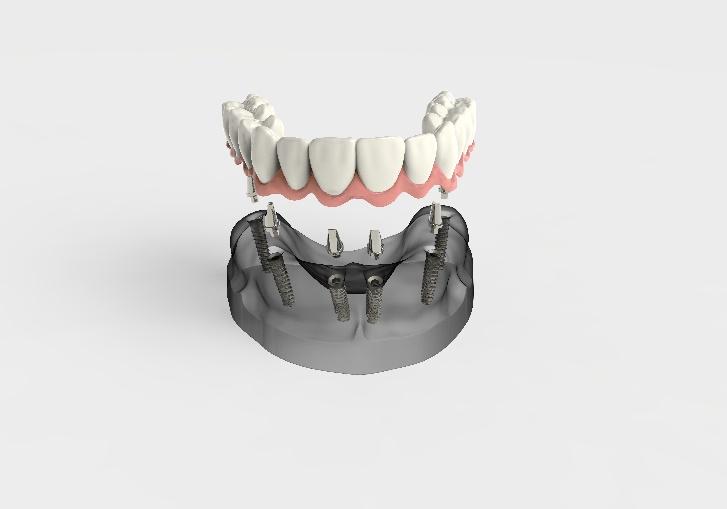 We can place temporary dentures so you do not have to go toothless while waiting for your permanent dentures. These dentures are secured in place with a metal wire (similar to a retainer) and removable.
When your custom dentures are ready, we will schedule a fitting for you to try on your dentures. We want to determine that your dentures enable full dental function or near-full function and control. Although it takes time to adapt to speaking and eating, your dentures should feel comfortable and secure in your mouth.
Implant-Supported Dentures Process
The process of placing implant-supported dentures is more involved, as it requires an oral surgery procedure. Generally the implant posts are placed in the jawbone and left to heal and integrate with the bone before being mounted with the custom denture appliance. Our implant dentist, Dr. Garry Bloch, can walk you through the steps of implant placement and create a treatment plan tailored to your needs.
Our dental team will provide complete instructions for the cleaning and care of your dentures. We are always available to answer questions or to make minor adjustments to improve the fit of your dentures.
Contact Us Today for a Denture Consultation
If you are missing teeth and want to learn more about dentures, or if you are experiencing problems with your current dentures, please call or email our office today.